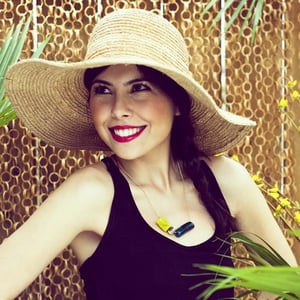 $

30.00
Name:
The Maryas series is named after our dear friend who makes beauty seem effortless.
Story:
All the beads in this series are from a vintage bead collection that was compiled by a collector in the 80s. The unknown collector sold the treasure to an antique dealer (Rouge Gallery). The entire collection was then bought and donated by a Numero Seis patron. Blessed.
Ingredients :
+18k gold plated chain
+hand-made glass beads (yellow and translucent blue)
+ribbed metal bead
Production:
1/1 (One of a kind)
Length:
24cm when clasp closed.